SEM - Search Engine Marketing - Display and Pay Per Click Ads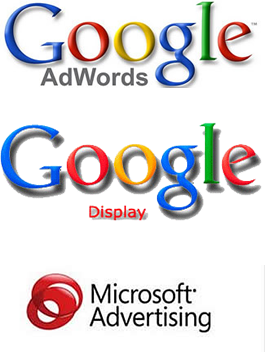 Paying for ads can get expensive. So we always do full organic and conversion optimization for the targeted landing pages before trying any paid ads. We maximize your ROI by having a focused campaign plan and a budget.
In the traditional search engines, each keyword phrase has a unique cost, determined by an auction process. The more competitive the keywords, the higher the cost per click. Also, short keywords can be more expensive that 'long tail' keywords. We develop a campaign that cost effectively markets your website, using our years of experience in developing paid ad campaigns.
Display Ads
For display ads to work, you need good graphics. Google Display Ads have ten different ad sizes and there are two more common sizes used by other publishers. The first step is to create the creatives. Then, they need to be matched to the appropriate landing pages. We are well versed in this process and can develop a solid campaign. The set up can have a one time cost of $1,000- and the monthly ad spend can be anywhere from $100.- to infinity.